FRESHCUP IS NOW IN IRELAND!
Why FreshCup™?
Fast, easy to use and cost-effective, FreshCUP™ cleans and sanitises in speedy, 30 second cycles. 
For offices, quick service retail spaces and cafes / coffee shops – anywhere you can get a cuppa and have a bite to eat!
Employees /customers enjoy fresh, ready-to-use clean and sanitised cups without delay.
FreshCup™ - A new concept of clean
A solution for jam-packed sinks AND countless eco-destroying disposable cups. Our patented detergent blend thoroughly cleans cups, glasses and plates.
FreshCUP™ is optimal for use everywhere, from coffee docks, cafes, office kitchenettes, lounges,
workshops and bars to trade show booths and beauty salons.
We've developed a targeted program that uses fresh water, special detergent and moderate temperatures to wash these products of the good earth.
Go on, press the button and enjoy clean, fresh fruits and vegies.
Well, that's a question of efficiency and resources.
Wouldn't you prefer to save time and money that can go towards special projects?
In terms of value-for-money, there is no comparison, FreshCUP™ is substantially more cost-effective.
FreshCUP™ is a smart, durable, economical solution that saves time, money and energy in the never-ending task of cleaning office cups and dishware.
Only 1 cartridge per 1000 cups, no more disposables in your cabinets and a windfall in your expense accounts.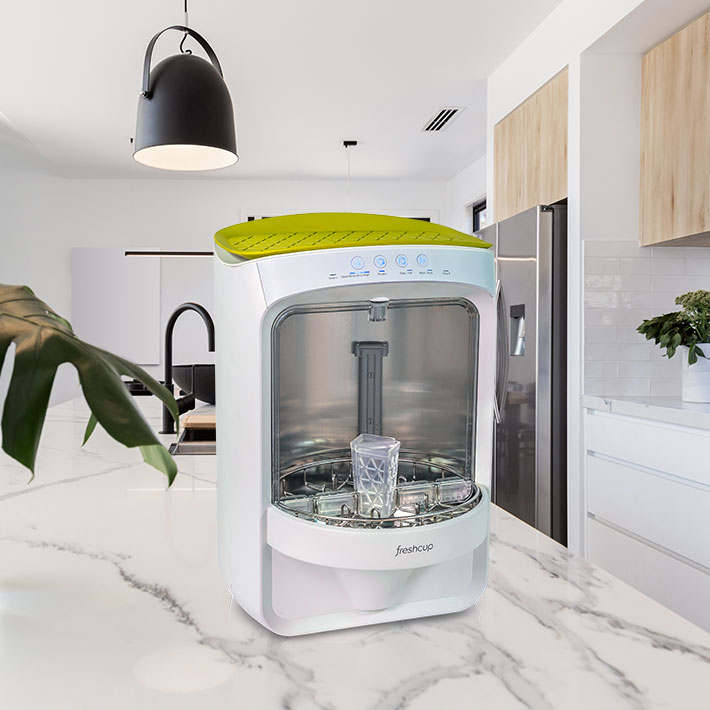 Throughout the years, humans have been scratching their heads on how they can shed the weight off of their trusty gadgets and appliances. Luckily, issues
Read More »
WE'D LOVE TO HEAR FROM YOU!